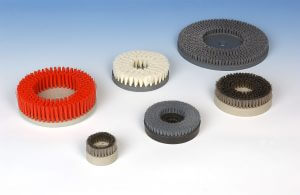 Disk brushes include all types of brushes that use a round disk as a base. Depending on the particular version, there are standard or special disk brushes.
Our factory facilities enable the production of almost all possible versions of disk brush body. We manufacture Niebling disk brushes from a 5 mm to diameters far in excess of 600 mm, using a wide range of materials.
Almost all possible fill materials can be used. Depending on the configuration or application, the fill is either mechanically fixed or hand-drawn.
The range of different sizes of free fill height (BH) is dependent to a large extent on the fill type. In the case of brushes with a hand-drawn fill, free filament lengths up to 800 mm are possible, depending on the fill configuration.
We manufacture these brushes as specials, according to customers' wishes and requirements.
The studded disk brush has been developed for special deburring applications.
The studs consist of tightly bundled packets of abrasive filaments with the option of different diameters, filament lengths and numbers.
The base can be manufactured in different diameters with or without a threaded component or shank.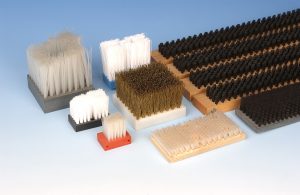 Block brushes are primarily used on surfaces that store or transport a wide variety of different materials.
Depending on the application, the fill can be supplied in different densities with varying filament lengths or set at a specific angle.
As requested, we can use wood, plastic or metal to make the body. For this purpose we have a wide range of semi-finished components in stock.
The photographs on this page show some of the many different possibilities. Depending on the type of brush, all fill materials can be used.
Disk brushes, special profiles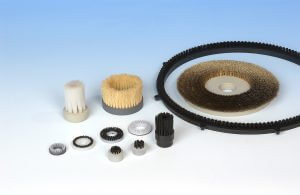 Versatile, modern production equipment enables us to meet almost every wish in terms of shape and configuration.
Special shapes open up an almost infinite range of possibilities such as oval bodies and conical or post-drilled axle holes, specially configured bearing or fixing brushes etc. Other possible alternatives include fill configurations, such as field or part-fill, bodies made from different plastics, wood or metals and mechanically fixed or hand-drawn fill bundles using almost any of the fill materials. For special applications, we can produce special filament types.
The configurations and versions either mentioned or shown represent only some of the possibilities available from Niebling-Bürsten.